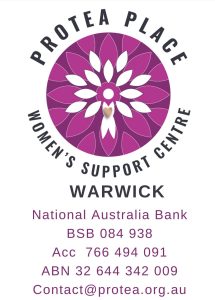 PROTEA PLACE WARWICK
Small band of passionate community members are hoping to have a women's day centre/support service  based in Warwick. 
Many women in our community are at risk, can't access support and find the phone services do not meet the needs of regional women.  It was identified that the Southern Downs needs a door and a safe place for women to connect!
The Uniting Church with incredible support from the community are undertaking to complete a makeover of a suitable building in Guy Street.  This is being done by volunteers and with donations from the community. Incredible progress taking place at the Protea Place Warwick site with huge thanks and gratitude to an incredible team of Volunteers
Painstakingly sanding, patching, filling and painting this old beauty back to life.  Many many hours of hard work devoted by the kindest people you will ever meet.  Most are well into their 70s and 80s yet turn up to get the job done for their community. 
Thank you to Ian Darnell (Project Manager) and Ray Browne for leading the work.
To our many contributors of paint, plumbing, electrical, néw bathroom and kitchen labour and materials all making this happen. A huge thanks to
Warwick Uniting Church
for making this project possible with the use of the old manse.
There is still a lot to be completed so If you would like to help please email Ian at
darnell@nspire.com.au
In the next few months we will be looking to decorate and furnish the program ready to open in July !
Please contact Amanda at ceo@protea.org.au if you'd like more info on required items for this aspect.
Protea Place Inc. have committed to work with us to bring the service to Warwick under the same fundraising and community support model.  For this to be achieved the first step is we must raise $130,000 for our first 12 months of operational expenses by June 2023 to open the doors.   This covers costs for skilled professionals, utilities, insurances and the usual expenses of running any service.  We have raised close to $70000 to date – March 2023.
FUNDS RAISED IN WARWICK STAY IN WARWICK !
A bit more about Protea Place Protea Promo Sep21 (vimeo.com)
If you wish to know more, please do not hesitate to contact the CEO of Protea Place – Amanda Dalton amandad@protea.org.au or one of the Warwick PP Team members.