8:30am each Sunday *
* See 'Worship Services' for further detail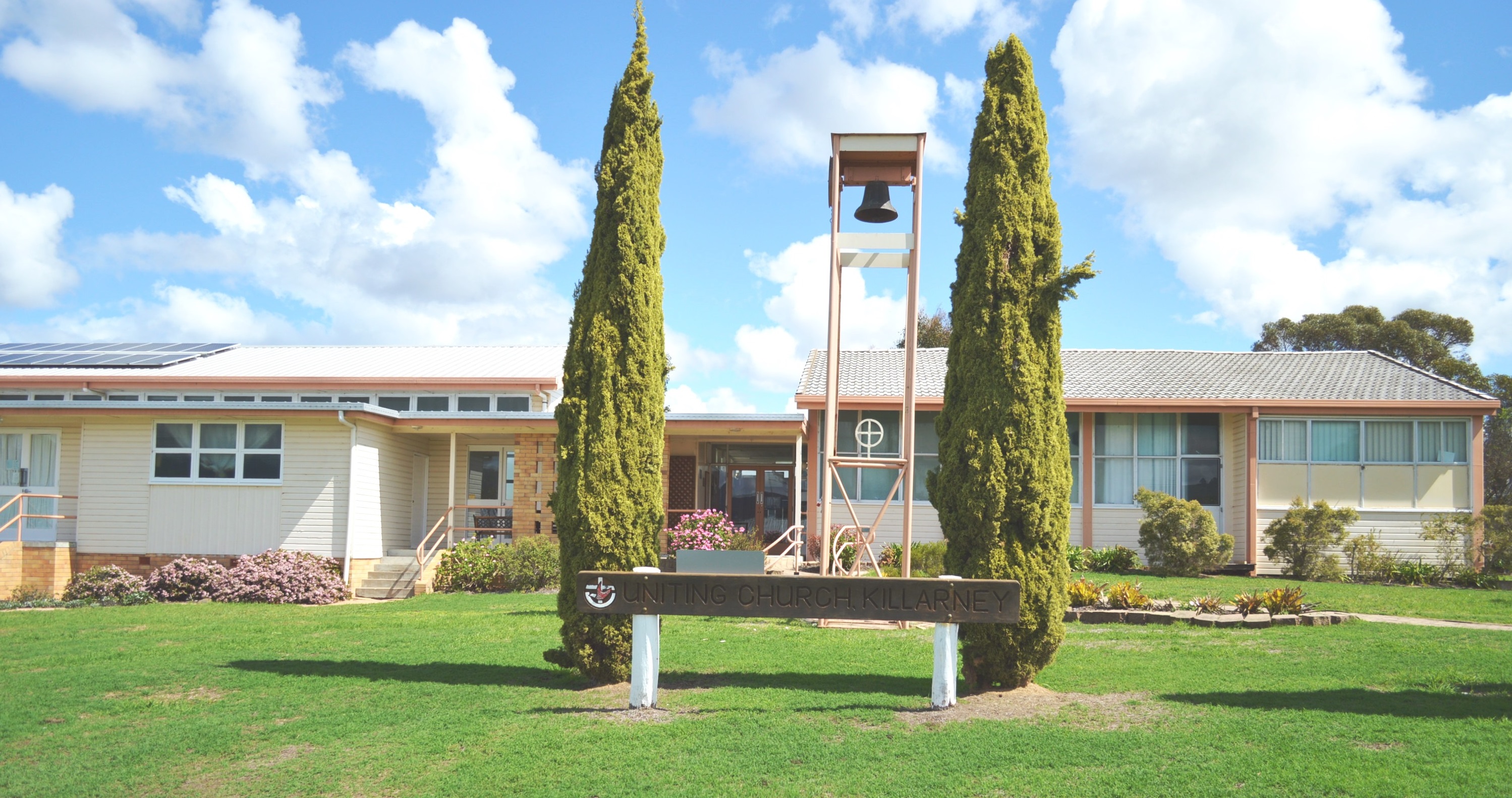 Nestled at the foot of the ranges, including Queen Mary's Falls, Killarney is both an agricultural and a tourist area, with farming, camping, waterfalls to explore and major community events drawing people in through the year.
We are a warm and welcoming congregation, involved in our small community from birth through all the ups and downs of life.
We celebrate two windows donated by Jean Orval when a cyclone destroyed the previous church in 1968.
We are ecumenical, worshipping in other churches on a rotating basis on the 5th Sunday of any month.
Address
12 Eucalyptus St, Killarney Qld 4373
Worship Services
8:30am each Sunday of each month apart from:

The 2nd Sunday of each month is shared between Killarney Uniting, Roman Catholic and Anglican churches.  It still meets 8:30am but we advise checking our Notices to see which Church is hosting the Service.
the 5th Sunday which meets 10am and is ecumenical.

Sunday School on 4th Sunday of each month
Christmas Day:  8:30am Sunday 25th December 
5th Sunday of the month: 10am at various churches, including Killarney Uniting, on an ecumenical basis.
Please feel welcome to join us.  We would be blessed to have you with us – simply come as you are!
BIBLE STUDY
aKYB -Tuesdays, 9:30am at the Killarney Uniting Church Hall
KMAC – Tuesdays, 1:30pm at the KMAC (Killarney Aged Care) facility (opposite the Church.  Held on the first Thursday of each month at 9:30am.  
All are welcome
CHILDREN'S MINISTRIES
mainly music Killarne

y: Held at Killarney Uniting Church Hall, Wednesdays during school terms.Session: 9:15am-10:45am

Girls' Brigade

: GIRLS' LIVES TRANSFORMED; GOD'S WORLD ENRICHED Thursdays, P – Grade 12+, 5.00-7.00pm Killarney Uniting, Eucalyptus Street, Killarney.
Sunday School is held on the 4th Sunday of each month
Holiday Activities – usually held each school holiday – a orning of various craft and fun
FELLOWSHIP & OUTREACH
Killarney Adult Fellowship:

1:30 pm on the 1st Thursday of each month, meeting at the Killarney Uniting Church Hall